Erasmus Trip to Nuremberg, 29th November 2015
How can one find the right words for this? With an incredible number of 150 international students we left by train for a day trip to Nuremberg! There we had besides city tours in small groups, two major programme points. One group visited the Historic Rock-Cut Cellars of Nuremberg, while the other group dealt with German history at the Documentation Centre. Then we went together to the largest Christmas market in Germany where all warmed up with a cup of mulled wine or hot chocolate. Against all expectations, we managed to not lose anyone and so we all returned to Passau at night after a great trip.
---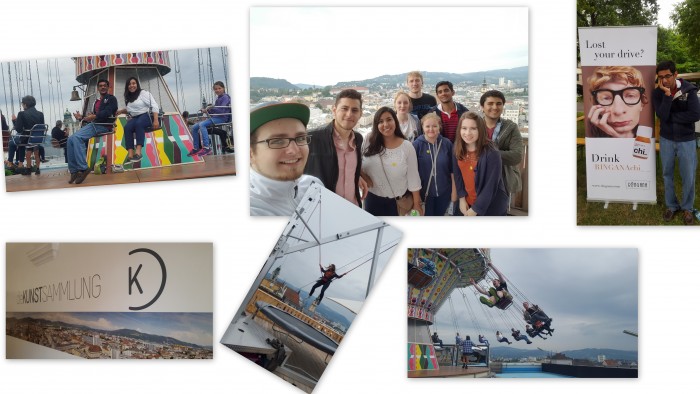 Erasmus Trip to Linz, 27th June 2015
This time we went a step further and crossed the border to Austria with a small group of international students. By train we traveled to the inconspicuous town of Linz, which has more to offer than one might think. After a brief city tour we went high up to the annual exhibition "Höhenrausch" which comes on the roofs of Linz with arts, entertainment and a great view. Then it went contrary underneath the earth to the technology museum "Ars Electronica" which provides diverse interactive technology for visitors on several floors in addition to a 3D cinema. From robots, via electrical prostheses to 3D printers there was much to admire and to try out. For example we were allowed to print modells drawn by ourselves in the underground located "Science Lab". Finally, there was a delicious "Sacher-Chocolate" ice cream for all, and then we have made our way back home.
---
Munich Clubbing 18th April 2015
In the summer semester 2014 (as well as in the following semesters) we made an overnight trip to Munich with a group of the AEGEEans and international students from Spain, Italy, France and Brazil and many more countries. We did a lot of sightseeing and then took a close look at Munich's famous nightlife! Luckily, it takes only 2 hours to go from Passau to Munich by train and the group ticket costs only 8 Euros per person, so we could enjoy the best of the city without having to pay a fortune.
---
Older entries can be found in our

archives

🙂