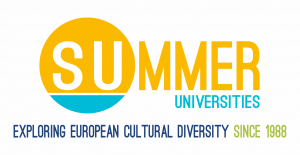 The Summer University is the most successful project in AEGEE history. Annually, for twenty years by now, over 5000 young people from all corners of Europe participate in up to 90 different Summer Universities in more than 30 countries.
AEGEE Summer Universities (SU) are two-week linguistic or cultural trips that take place from June to September across Europe every year.
The following are the different Summer Universities:
Summer Courses (SC)
Thematically oriented courses in various fields of knowledge, from sailing lessons to mythology.
Summer Events (SE)
Summer events are distinguished in that they have no fixed syllabus. Some SE's take only one week.
Language Course (LC)
The perfect SU for language enthusiasts: Polish, Bulgarian, Spanish, German …. as always events for all tastes.
Language Course Plus (LC+)
SU with language training at an advanced level.
Travelling Summer University (TSU)
The name says it all: on a TSU are at least 3-4 different places visited, to learn about different aspects of a region.
Costs
Participation in SU regulary cost between 120-190 euros, including accommodation and breakfast / HP depending on location and event.
Accommodation
Usually you will be accommodated privately with students. The particular type of housing is given in the Summer University booklet and on the website.
Catering
The scope of the catering varies from SU to SU. But each host offers breakfast. Depending on how many sponsors the organizers found, there are also lunch and / or dinner included. Food that is part of the leisure program, eg. as on picnics and brunches is financed by the registration fee.
Teaching
Classes are held three to five times a week and lasts three to five hours a day. Lecturers are usually language students who already have experience in teaching. Some antennas can even afford professional teachers. The language level range from 1 for beginners through 2 (advanced) to 3 for students with good to very good language skills.
Leisure program
Of course, this should not be missed: For the so-called social programme: excursions, city tours or museum visits are offered. And parties are mandatory for all SUs.
Registration
Precondition for participation in a Summer University is a membership in AEGEE. For information on that go to the general SU-website or contact us personally.
Here you can find a list of the current Summer Universities 2018
Applications will be accepted until 15th April 2019 1 pm !