One World Convention on Social Business
From 19th to 22nd May 2011, our One World Convention on Social Business took place in Passau. The idea for the conference came into existence as some time ago a Nobel Peace Prize winner Muhammad Yunus held a lecture on Social Business in Passau. According to Yunus is: "The human mind () boundlessly creative. If you do not stop to think, you will find a solution "One of these solutions is: Social Business. Social businesses do not seek to maximize their profits, but the elimination of social problems and measure their success solely to this criterion. Yunus' quote thus served as a guiding principle for the scheduled conference. From autumn 2010 the organization team around Project Manager Frida steadily enlarged and worked in different groups busily preparing for the conference. On 18th May 2011 it was finally so far: with the arrival of the 50 participants (AEGEE members from all over Europe as well as students from Passau) could begin the conference.
. . In the four-day conference, the participants gained valuable knowledge in various presentations by keynote speakers and workshops about social business, microcredit financing and project management and then even creatively apply their knowledge in project groups. Of course for, the pleasure of the participants, there was taken care of a great meal in the versatile WiWi foyer that has since been converted into a breakfast and coffee break area. In addition to pasta, a salad bar, and homemade cake, there was always a selection of delicious organic and Fair Trade products.
In the evening hours finally a varied "Social programs" with guided tour, Bavarian dinner, Erasmus party and, of course belonging to any European AEGEE event European Night took place! A special highlight was the appearance of the Trachtenverein which taught us some dances and the "Schuhplattln".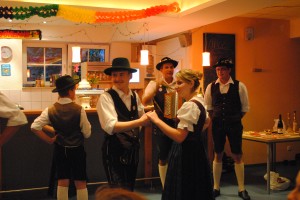 For success of the whole event, also contributed to the eligible speakers, among them e.g. Günter Nooke, personal G-8 representative for Africa of the Chancellor, Dr. Florian Grohs, managing director of Oikocredit Germany and Rebecca Szrama, independent social business consultant who extensively taught in lectures, panel discussions and workshops on their knowledge and met very interested and sometimes critical audience.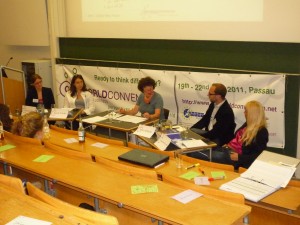 In the Best Practice Fair, which also took place in WiWi foyer, various companies that were working in the area of ​​social business and microcredit financing, presented and answered questions from all interested parties.
  Finally, the participants were able to present and discuss their own social business concepts they elaborated in the project groups. All in all is therefore a great and intense weekend behind us. We would like to thank all partners and the hard-working helpers, without such a successful conference would not have been possible. We have financed our project, incidentally, in large part by funds from the Youth in Action program, which was created by the European Commission to support projects committed by young Europeans. Although the organization was not always easy, we strongly grew together during the long teamwork and preparatory phase of the conference and have learned so much. Who wants to know more about the conference, can check out our homepage oneworldconvention.aegee-passau.de with many pictures and extensive documentation.